Today we have the pleasure of getting to know Sarah from Spotted Giraffe a little bit better, so Sarah….
Tell us about your business
In a nutshell -Designing and making jewellery for both Women and Children.
What inspired you to start your business?
I found it very difficult to find interesting and unique and affordable jewellery to wear during the day or night. I had party to go to and decided to make a necklace for myself (first ever attempt). It received so much attention, I decided to explore the possibility of making more.
Is there an interesting anecdote behind your business name?
Yes, there is!
The giraffe spots are like a fingerprint to identify each animal – so each spot is unique, like each piece of my jewellery.
AND of course, Giraffe's have their long neck – an obvious link to necklaces.
What is the most satisfying part of what you do?
I enjoy being part of the whole process – from finding the interesting beads and other pieces to create with, to the actual design. Then of course you have to market and sell your product. I also really really love being my own boss.
Have you tried something in business that didn't work as planned, or on the flip side – worked out better than expected?
I have been working on creating jewellery for the 'teen' market. Many of my shops have encouraged me to do this as they find it difficult to buy for this age. After lots of research, and experimenting I am really happy that my pendants for this age are very appealing for both teenagers, and their wallets.
What would be your best tip for someone thinking about selling their handcrafted goods?
Research as much as you can. Talk to retailers – both shops and marketeers and listen to their advice. AND have confidence in your product.
What is your favourite item you make?
Although I love making the children's jewellery, My favourite necklaces to make are the long Adult ones.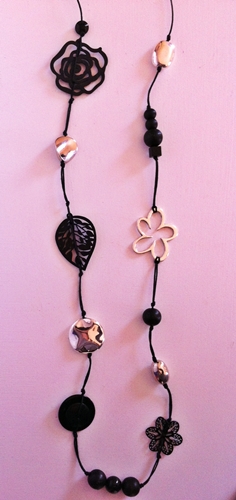 Any personal or business highlights in the last year:
Having decided to step my business up a notch, I have enjoyed being picked up by another ten or so stockists. I get such a thrill each time this happens.
One of my latest stockists is four shops in the CBD of Melbourne – so I am also enjoying the challenge of finding stockists outside of Tasmania.
3 things about you (not business related) that people might not know:
I was born, raised and educated in Hobart. I have travelled and lived in London for nearly six years and now live in Launceston with my husband Ben and two daughters, Lily and Harriet.
I was trained as a Primary school teacher and taught for 18 years before deciding to make Spotted Giraffe my career.
Not long ago I completed treatment for Breast Cancer. All going well.
Thank you Sarah, it has been a pleasure meeting you, the maker!