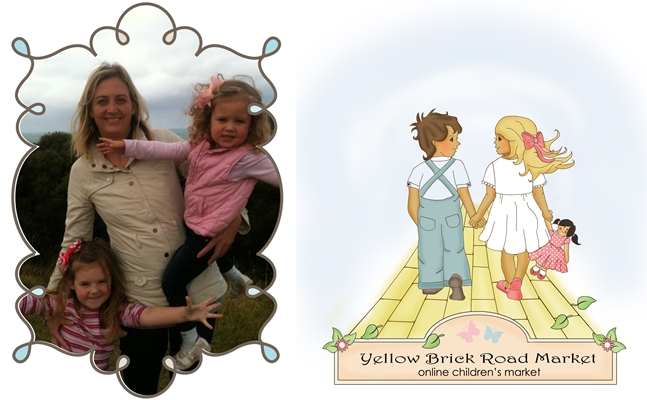 Prue lives in Melbourne with her two gorgeous girls and extremely patient (and handsome) husband. She juggles her two loves of creating and nurturing wholeheartedly. She loves spending time with her family, cooking cinnamon jam donuts, fancy birthday cakes and dreams of time to take a long solo walk by the beach and a swim to clear the head.
Having nursed in Melbourne and London, and in between studying business management, web development and visiting markets it was time to start something new. A family of entrepreneurs inspired Prue to try her hand at starting Yellow Brick Road Market.
Yellow Brick Road Market is like an emporium for high quality and unique products for children. You can shop by category or by the individual designers. You can shop any time of the day or night and your items will be despatched to you within 48 hours (unless your item is made to order) by the designer. If you purchase from different designers then the postman will be busy delivering the different parcels to your door.
Yellow Brick Road Market is about being true to your heart and soul and following your dreams. Her favourite part is discovering the raw talent and beautiful, fun, creative products.
Yellow Brick Road Market brings you a world of treasures for children together in one online space so you can buy what your heart desires for your little loved ones anytime that is convenient to you.
Yellow Brick Road market not only offers our retailers a chance to connect and sell with their target handmade market but also a chance to be discovered by the world of retail and buyers from all over the globe.
To shop at Yellow Brick Road Market, head to their website.