The Artful Business Conference is hosted by  Studio Exsto.
Are you a creative entrepreneur or passion driven business owner?
 Are you ready to make a successful business out of your passion and grow your creative business?
 Are you prepared to take serious action but just not sure how?
If you answered YES to any of these, then
The Artful Business Conference
is THE event for you!
A 2013 ticket gives you access to not only this years event, but all of the 2012 presentations and workshops as well as access to our online networking community so that you can start immediately making 2013 your best year in business yet!
The Artful Business Conference is a very special event dedicated empowering artists, designers, creators, teachers, writers and musicians that the artist skills they have can work in harmony with their business.
This event educates creatives in the art of business without all of the jargon and boring business stereotypes.
The Artful Business Conference is also about building networks, connections and friendships with other people striving for success in a creative and authentic way.
This event is about art-filled business!
WHEN: 3rd and 4th of September 2013 
WHERE: Christie Conference Centre, Brisbane. Queensland, Australia
 OR ATTEND AND INTERACT WITH THE LIVE EVENT VIRTUALLY VIA LIVESTREAM! 
Our speakers, Jessika Hepburn of Oh My! Handmade, Monica McCarthy of Show & Tell Stories, Shayne Tilley digital marketing and product launch expert, Simon Walker entrepreneur and start-up business guru, Karen Gunton from Build A Little Biz, Cintia Gonzalez of My Poppet, Jacqui Pryor from Mark My Words, and Nicole Fende aka The Numbers Whisperer, are a mix of experts, business owners and creative entrepreneurs brought together to ensure that the attendees at this years conference will not only gain knowledge and inspiration, but will have a newfound ability to take action in their business.
"This isn't just a 2 day conference,
Its more like a 6 month intensive business overhaul"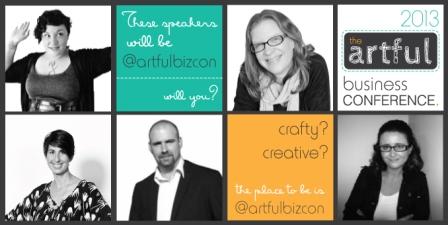 2012 saw the inaugural event. It was powerful and life changing for those who attended (live and virtually). This year we have grown from that success and are so thrilled to provide creatives from across Australia and the world, a safe place to connect and learn alongside like-minded entrepreneurs and creatives.
The nature of the ABC, and its dedication to creatives and their niche business needs, was so refreshing. The commitment to quality speakers and a program tailored to its audience made it an inspiring two days that left me with a want to do better and a confidence that I can.
For those who cant make the trip to Brisbane, a virtual ticket gives you full access to the live stream of the event allowing virtual attendees to watch from all over the world, stay at home on the couch, or watch while at their day job, with the capabilities to ask questions of the speakers in real time, and interact and connect with other virtual attendees in the chat.
I attended the Conference virtually and I cant express in words what it meant to me to attend. Not only did it boost my self-confidence, but also it helped me believe that I could do it and be successful at it. The conference gave me guidance.
If you are a creative in business for yourself and have found other business courses and conferences lacking in relevance, understanding, actionable steps and creativity, the Artful Business Conference is just what you are looking for.
"Within 2 weeks of the conference, using the knowledge gained I could use the extra profit earned to cover last year's ticket… AND get a ticket for the 2013 event!"
It is two full days filled with expert information and advice but also with fine food, good people and a whole lot of laughs!
Early Bird Tickets Available Now.
With only a small number of live tickets left we expect them to go quickly " so no dilly dallying!  Tickets to the event can be purchased from the Artful Business Conference website.

We hope to see you there  or meet you online if you want to join us virtually!
Elle + Robyn
The Artful Business Conference
Hosted by Studio Exsto
http://www.twitter.com/ArtfulBizCon
http://www.instagram.com/artfulbizcon
https://www.facebook.com/TheArtfulBusinessCommunity
_____________________
Guest Post by Studio Exsto.    Handmade Kids is all booked in. Who else will be there?